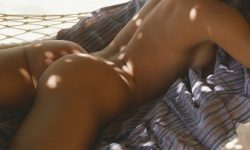 It has been a while since I updated my blog, and I have absolutely nothing to say in my defense. Life gets in the way I guess. It has been a busy spring with typical teenage drama and those stupid boys that seem to distract you from what is best. Spring break has come and gone, so has Prom and the end of another school year. I should have taken the time to write it all down as it happened. But it seems once you get distracted, it's hard to get back on track. I will try to catch everyone up in the next few blog post.
The spring was a busy blur of activities that has turned into the slow moving days of summer. My father's job sent him to South America for a few weeks and he only returned for a few days and he was off again. But that enabled the family to pack up and go meet him for a beautiful vacation in Brazil. So after school let out for the summer, Mom and my sister and I flew down to stay at a beach rental on the coast of Brazil that my father found for us. It was such a beautiful and tropical place. We stayed for two lovely weeks and I have to admit that it was very hard to leave and return home.
While we were there we had a gorgeous beach that was mostly to ourselves. Plenty of sight-seeing but the best part for me was just spending lazy days on the beach in Paradise. The good part about Dad being in Brazil working all that time, was that he was able to find us a great place to vacation with enough seclusion for plenty of nude relaxation. We had to cover up occasionally if we encountered someone on the beach, but there were days where we had the beach to ourselves and saw no one at all.
Most afternoons you could find me napping in one of the hammocks, feeling the sea breeze across my naked skin. It was wonderful. The surf was not too bad on most days. Mom drove us to a beach that was a popular surfer hang out. But it was too crowded for any nude sunbathing or skinny dipping. But the beach that was in front of our cabin was where you would find me lazily baking my nude body in the sun.
The family made a group trip to the market to stock up on groceries before we even arrived at the beach house. And after we arrived I made sure that I wore as little as possible if I had to wear anything at all. Mom kept wanting us to go site seeing. And every day we spent on a guided tour was a day that we had to wear clothes. The rain forest is hot and humid. And even though I loved the adventure of it all, it would have been so much more enjoyable in the nude. Then one day we all decided to go on a guided tour thru the jungle to some waterfalls. Our guide took us hiking along a very well-traveled path, stopping along the way to point out, plants, trees, and birds and animals. It was very informative and we all enjoyed the trip.
After a good long and hot hike we came upon the waterfalls. It was such a beautiful place. We were the only people there and it was truly paradise. We discussed stripping down and going for a nude swim. But Mom thought that the guide would not approve. But since we did have on our bikinis under our shorts, we were able to cool off in the water. After a good swim and a quick picnic lunch, we hiked back down the trail to the rental car and returned back to our cabin.
During dinner that evening we were discussing the tour and how wonderful the waterfall was. Everyone enjoyed the day, we talked about how nice it would have been to spend the day nude at the waterfall. Mom suggested that the trail was very easy to follow, and that we really didn't need the guide at all. So the next morning we woke up early and drove back to the trail at the park. We took off hiking the trail and in no time had stripped off our clothes. We hiked nude and figured if we encountered any other tours we would worry about it if it happened. But we had the place to ourselves and after a good hot hike found ourselves at the waterfalls.
We spent the entire day swimming naked and enjoying the falls and exploring the trails thru the rainforest. It was almost dark by the time we got back to our beach house, but it was such a fun and adventurous day! The days went by and my sister and I spent our days playing nude in the surf and laying naked in the sun. But all too soon we had to return home. None of us wanted to leave our little piece of paradise. But after the flight home it was nice to get home and relax from our travels.
If you enjoy my blog post, please subscribe by clicking the "Suzie's Goodies" link at the upper right of every page. That way you will never miss a new post!
Thanks to everyone for your love and support!
Love,
Suzie