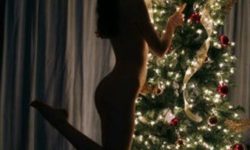 Another nude Christmas has come and gone. The weather here in our part of Texas has been warm enough for shorts and tee shirts, and for me lots of nude time outdoors for the holidays. I was able to do all my last minute shopping in shorts and then come home and strip off to enjoy nude walks in our yard.
I started a part time job at the mall for the holidays, and that means that for the first time in my life I cannot go several days straight without the need for clothing. Normally on my Christmas school break I could spend several days nude here at home. But this year I took a job so I could have "gas money" for my car. So this year I had to break tradition.
But Christmas was good for my sister and I and everyone got exactly what they asked Santa for. The warm weather allowed me to spend some nude time outdoors. I made the excuse that I needed to walk the dog, but I really wanted to just spend as much naked time outside as I could. I know that the nasty wet winter weather will soon return and I might not get too many more opportunities.
On one of my nude walks in the back yard, my dog ran off barking toward our front yard. It took me a while to walk across the yard to see what all the fuss was about. As I walked around the corner of the house I saw the Fed Ex delivery truck in the driveway. I don't know if the driver saw me, and to be honest I didn't really care. I was enjoying my walk and I wasn't going to allow the Fed Ex man to ruin my fun. I just simply turned around and casually walked back around the house.
My friends are planning to come over to our house for a sleepover on New Year's Eve. If the weather cooperates we will have some fireworks and spend our evening nude around the campfire out back by our pond. I have been really busy with school and work and we all miss our nude adventures. So this New Years is something we are all looking forward to.
I hope everyone had a wonderful Christmas and I want to thank everyone for all the encouraging words a support throughout the past year. Please subscribe to my blog by clicking the "Suzie's Goodies "link up at the upper right corner of this page. I hope you all have a Happy New Year!
Love,
Suzie