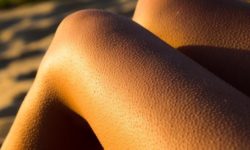 Spring has sprung here in our little part of Texas. The grass is growing, the leaves are sprouting on the trees and I was able to lay out nude and get some sun today! This morning was bleak and gloomy with clouds and a chilly morning. But by mid- morning the sun came out and warmed up everything into the mid 60's (Fahrenheit).
We made a big event out of it. My sister called her best friend to come over and enjoy the sun with us, and I called Kat, Maddie, and Allie to join us for naked lunch on the patio and to work on our all over tans out by the pool. The water in the pool is still way too cool for any of us to jump in. But the sunshine was enough for all of us girls to strip down and enjoy the sunny day. We love tanning naked by the pool. The excuse we used is that we need to get a good base tan so we don't burn when we start our serious tanning as the weather warms up more.
But to be honest, we all have been catching a day here and there to tan all winter. The good thing about living in the south is that after every cold front, it warms up a bit and if you're lucky the sun comes out to allow you to sneak in a couple of hours of nude relaxation before you can't stand the goosebumps any longer.
But today all the girls and my sister and I had a wonderful lunch outside in the sunshine, courtesy of my loving mother whom we just can't say enough good stuff about! Mom even joined us girls for a little nude time around the pool after lunch. But I must say that if you walked out of the sunshine into the shade, it didn't take long for the goosebumps to make you wish it was summertime!
I know we shouldn't have, but none of us bothered to put on sunscreen. We all lounged about planning how we are going to spend our spring break. We are all out of school this coming week and we hope the weather cooperates so we can have more nude outdoor fun. It's been a chilly and wet winter, and I just want to spend as much time nude and naked outdoors as I possibly can.
So as the afternoon sun was moving across the sky, after a few hours the breeze and the goosebumps forced us back into the house. But we all got a good dose of sun and I am happy to report that all of us young ladies managed to avoid a sunburn. Although our butts and nipples did seem a bit pink, I think it will all darken up and tan without a burn.
Overall we have had a great day hanging out with each other and planning our spring and summer adventures. There is something about spending time with your friends in the nude that brings us all closer together, I just don't know how to explain it. But I urge all of my readers to please give it a try! Even if you just do it by yourself, strip down and enjoy nature without your clothes. It's such a relaxing way to spend the day out in nature.
If you enjoy my blog post, please subscribe by clicking the "Suzie's Goodies" link at the upper right of every page. That way you will never miss a new post!
Thanks to everyone for your love and support!
Love,
Suzie