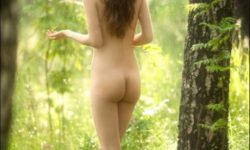 Today was a wonderful day!
It was a nice cool fall day here in East Texas. I can tell the season is changing, and it made for a very nice day out by the pool.
This morning I woke up to a hand on top of my face. I removed the hand and determined it was Kats. That's what I get for rolling over on my back while I slept. In order to get all four of us in my bed together we have to "spoon" on our sides. The two girls on each end get a little freedom to squirm around, but not much.
We all woke each other up and lazily cuddled naked under the sheets. But the smell of bacon finally got us all at the kitchen table for breakfast. All the girls spent the night last night, Kat, Maddie, and Allie. We all slowly walked naked to the kitchen, because we really hadn't intended to wake up this early. Mom told us over breakfast that Dad was fishing all day and we had the house all to ourselves today. But Mom said Dad had to carefully back out of the driveway this morning when he left. All of my friends eventually got their own cars over the summer, and my Dad says that our front yard looks like a used car lot whenever all the girls visit.
After breakfast we went outside to enjoy the cool morning. We walked across our back pasture to our trail thru the woods and hiked naked down to the creek. Hunting season for deer will be here soon and I don't know how many more hikes in the woods we will be able to take. I kept a look out for game cameras, since we don't want to give any hunters a surprise when they check their images. We enjoyed our walk in the woods and spent the rest of the day laying around the pool and working on our tans. The cold fronts will be coming soon and winter will leave us very few days to get some sun.
But the weather was so nice and everyone enjoyed it. All the girls left by dinnertime and it was just Mom and my sister and I at the dinner table. We talked for a good while at the table. During the summer I stopped wearing bras, and I was a bit concerned when school started. But we are all surprised that so far none of the teachers at school has noticed. I am hoping that since my Mom is a teacher, if a fellow teacher notices that I am not wearing a bra they will talk to my mother before sending me to the office for dress code violations. But so far I have had no problems.
Of course I am not trying to attract attention. I tape my nipples or layer my tops so my nipples are not that obvious. But it's been hot here in Texas and I really don't like to wear a lot of clothes anyway, so it's mostly tape until winter comes.
I hope everyone had a good weekend and if you enjoy my Blog Post please subscribe to "Suzie's goodies" up at the upper right hand corner of the page. I will email you when I post a new story so you will always be the first to know!
Love,
Suzie