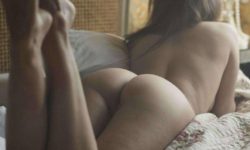 Being a teenage nudist at times is not easy. People judge me because I enjoy the freedom of being clothes free when I can. So I am always careful and selective with who I share the fact that my family practices nudity in our lives.
Today a fellow nudist on twitter asked me if I still had my account on Pinterest. Pinterest has decided to discriminate against my nudist lifestyle by deleting my account and all of my pins. Even today, no one can pin a picture linked to my blog. Even though there are some really gross pornographic images on Pinterest, my wholesome natural nude pictures that I pinned where judged by someone with better morals than me to be offensive.
I often wondered why I could not find more teenage nudist on social media and with blogs like mine. When I was younger, I desperately tried to find other young nudist on the internet. I have come to realize that some people are offended that a teenager would be a nudist and go out of their way to ban these teenagers. Someone who thinks they have better morals than me decided that I should be suspended and banned from Pinterest and Facebook. I never posted anything but tasteful pictures, but just the fact that it was a nudist teenagers account was enough for the deletion of my accounts.
So far twitter seems to be more tolerant. Although I was suspended for a couple of days and I still cant upload a profile picture, so far twitter seems to accept the fact that people are going to have different beliefs.
Censorship sucks, plain and simple. Perhaps one day there will be no sign of Nudisuzie anywhere on the internet. Maybe one day everything I have written will be deleted and banned from public exposure. But for now I will continue to write and express my views and lifestyle for others who find enjoyment in reading about me. Hopefully I can keep this site up for a while longer, and whatever social accounts that will let me…be me.
If you like these stories and my blog site, please sign up for "suzies goodies" up in the upper right hand corner. Like and retweet me on twitter, and share my stories on other social media sites that will "allow" you to do so. I appreciate everyone for your love and support!
Love,
Suzie