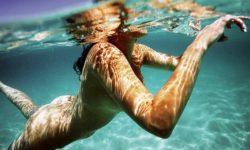 Today I have been having naked daydreams all day. I have turned into an obsessed teenage nudist, all I can think about all day was swimming naked in the warm waters of summertime. Daydreaming of the hot sun on my nude skin, turning my nipples my favorite shade of dark bronze. I even daydreamed about how wonderful it would be to have a sunburn, with tender rosy butt checks. Having my sister peel off patches of dried skin off my sunburned back. I daydreamed of beads of sweat on my forehead as I dove into our crystal clear pool to cool off from the Texas heat. I daydreamed of the smell of coconut tanning oil on my skin. I think I'm getting cabin fever again.
I spent most of my day daydreaming while decorating our Christmas tree. Sipping on hot chocolate and prancing around the house naked digging thru boxes of Christmas ornaments. Every once in a while looking out the window at our dreary cold and rainy day. Its wintertime in Texas. Wet and cold. And today it had me in a funk, wishing for warmer weather. Wishing for sun burnt skin, and beach hair.
I keep one of my father's old oversize coats and a pair of his oversize hiking boots by the back door. Both are too big for me, but it makes it easy to slip on the boots without having to lace them up. Then putting on the coat so I can walk the dog out in the yard on these cold and wet days. Then we come back inside to another cup of hot chocolate, and continue my daydreams of warmer weather and frolicking naked in the surf with my toes in the warm sand.
I have been working at a clothing store at the mall for a couple of weeks now. I know…kind of ironic for a teenage nudist to be working in a clothing store! The day after Thanksgiving is called "Black Friday", and I had to show up for work at 3am…it was a mad house. Crazy people everywhere! But even at work, I spend my time folding clothes and daydreaming of hurrying home so I can strip out of my clothes and feel the freedom of my nakedness. Or daydreaming of the good old days when my sister and I were little, and would be naked on the beach building sand castles in the warm sun…yes I have cabin fever again. But the daydreams are getting me thru the winter.
If you want to cheer me up, please subscribe to my blog by clicking on the "Suzie's Goodies" tab at the upper right hand corner of the page. It would make me happy and you will receive an email from me whenever I have a new post.
Stay warm!
Love,
Suzie