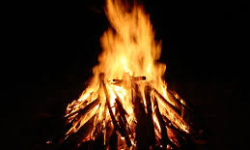 Its deer hunting season here in Texas. My Dad packed up his hunting gear and drove off Friday to go hunting for the weekend with his friends. That left just us girls alone for the weekend. So my sister and I planned a sleepover with our friends, and after school on Friday it wasn't long before our front yard once again looked like a used car lot.
We were all excited to start our naked slumber party, and after everyone had stripped off our school clothes we all gathered around our pool to plan our weekend. By the time Mom got home from school my friends and I had already stacked up enough wood for our bond fire. The fall weather has been so mild here that we couldn't resist having dinner outside on our patio.
We all sat around the campfire until late in the evening, mostly talking about boys. We are all dating now and it is getting hard to get all of us together like this. So we all decided to skip the football game tonight and do some girl bonding.
We all took turns body painting each other in the glow of the campfire, it all had a real primitive vibe. We were all laughing and dancing around the bond fire, we must have looked like some primitive tribe. The good thing about sitting around the campfire naked, is that you don't have any clothes to get all smoky smelling. We all skinny dipped in the pool and then took an outdoor shower out on our patio before we came in for the evening. My friend Kat even made the comment on how convenient being nude is and how easy it is to clean up after chasing each other around the campfire.
Saturday morning was spent spooning in bed until the smell of Mom cooking bacon brought us out into the kitchen. We spent our day Saturday out on the patio and around the pool, until my friends slowly started getting dressed one by one and leaving. My friend Kat is the only one who stayed because she and I are the only ones without a date on Saturday night. So we were able to continue our little nude girl's night for one more evening.
Since it is the start of hunting season, our nude hikes thru the woods will have to wait until next spring. There are too many people and game cameras in the woods! And as the weather turns cold I will eventually have to put on clothes to walk my dog in our yard. But it was a nice weekend and everyone had a good time. I wish this could last forever…but we are all growing up.
If you like my post please sign up for "Suzie's Goodies" up at the upper right corner of every post. I will email you every time I have a new post!
Love,
Suzie