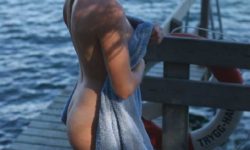 I just don't understand why people don't like nudist.
I came home from school in such a happy mood. During my last class of the day I stealthily slipped my hand up my t-shirt and pulled off the tape I had covering my nipples. I hate wearing tape, but I am trying to go all school year without wearing a bra. Today was too hot to layer up my tops, so I had to tape up my nipples so I wouldn't get sent home from school. I ran to my car after the final bell rang and hurried up and peeled my blue jeans off and bundled them up on my floor board and started the car and headed to pick up my sister at her school, naked from the waist down. I pulled into the circle drive at my sister's school and waited for her to jump into the car. When she sat down she looked over at me and just smiled. Before we pulled out onto the road my sister had her jeans off, and we both road home bottomless…and much more comfortable!
When we pulled into the driveway we walked into the house and did our usual daily routine, we pulled off our shirts and put our clothes into the laundry hamper. After a quick nude stroll outside with my dog, I came back inside and started up my laptop to see what I missed while I was at school…and that is when my day turned bad.
First my Facebook account was suspended earlier this year, and today I tried to log into my Pinterest account only to find that it also has been suspended.
I can only assume that someone did not like one of my pictures (pins) and complained. They did not have to get me suspended, they could have unfollowed me, or just moved on to another pin. And whoever made the decision to suspend my account should have known that none of my pins violated policy… maybe they don't like nudist? That must be it. Because I see a lot of graphic porn on Pinterest and they are not getting their accounts suspended.
This gets me so upset. I made a deliberate attempt to not break any of the policies on Pinterest. Why would I want to deliberately violate their policy and lose an account that had over 7000 followers? Most of my pins did not contain any frontal nudity.
But life must go on I guess….so much for my latest rant.
If you enjoy reading my Blog post, please click the subscribe button up at the upper right hand corner to subscribe to "suzies goodies". I will email you whenever I post a new story so you will be the first to know!
I love you all and thank you so much for your support!
Love,
Suzie