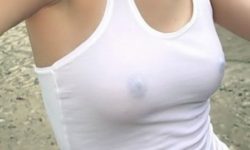 At the beginning of the summer my family and I heard of the amazing story of Kaitlyn Juvik,  a young woman from a Montana High School who got into trouble for going to school without a bra. In protest some of the boys wore bras over their shirts. Kaitlyn even wore pasties over her nipples to make sure her nipples did not show thru her shirt. She has said that the fact that she was told it makes people uncomfortable offends her… way to go girl!!
So to celebrate Kaitlyn's courage and do a little protesting on our own, my sister and all of our friends have joined me in not wearing bras all summer. We all have been as nude as possible here at home. But when we do have to wear clothes for the occasional trip to the store, we have all been braless. Even Mom has joined us on occasion.
And the whole embarrassing nipple thing has not phased me at all. It is very easy to tell when I am braless, and in defiance I have not worn pasties and refuse to tape down my nipples in any way. My Mom says we should be proud of our bodies and has been very supportive. However she is a teacher, and I don't know how she will feel once school starts. She says we will have to "feel things out" once school starts. I have gone to school without a bra before, but I have always made sure my nipples could not been seen (at least not too obvious). So we will see if I am brave enough to push the rules this school year.
To be honest I hate wearing a bra. And I only do so to comply with the school dress code. But I do think it would be awesome if I could get away with it every day. We went school clothes shopping this week and went braless to the mall. I even bumped into a few friends from school and if anyone noticed, they made no comment. As I was shopping for clothes I wade an effort to get thicker tops with texture, to make my nipples seem less obvious.
In our religious conservative community, I have always been conscience of what I wore out in public here in our home town. I am sure that I have raised some eyebrows this summer with my braless attire. And it seems that the adults are the ones with the issue. My class mates or kids younger than me don't seem to have any problems, or reactions (if they even notice at all). But the older adults have given me double takes and unapprovingly looks. If they only knew that I spend most of my time completely naked, I'm sure they would not approve at all.
Sorry for the rant!…but I just had to get this off my chest (hehe). I thank everyone for their support and comments on my blog. I invite everyone to sign up for my "Suzie's Goodies" and I will let you know whenever I make a new post.
Love,
Suzie