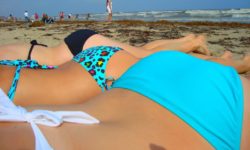 Everyone is enjoying the summer sunshine. My friend Kat's parents rented a beach cabin for the weekend and they invited all of us girls to join them. We decided that we would join them Friday morning and spend the night, and return home Saturday evening. Crystal Beach gets a bit rowdy on Sundays and my parents wanted me home early to avoid the heavy traffic and the crazy "circus" as we call it.
So Friday morning my Mom loaded me, Maddie and Allie up in her car and drove us up to meet Kat and her family. We found the cabin and unloaded the car and settled in. Mom visited with Kats parents a bit before she left to come back home. All of us girls changed into our bikinis and hit the beach for the day. We met up with some classmates and just walked the beach and hung out.
All day long we applied sun block. The last thing I wanted was tan lines to ruin my perfect all over tan. And then we spent the rest of the day constantly adjusting our bikinis. Worried about how they looked on us, and making sure we didn't flash anyone. After a while I thought about how lucky my younger sister was…who was at home lounging about naked without having to adjust any bathing suit at all. But it was nice to flirt with some of the boys from our school and meet new people.
That evening Kats parents grilled dinner and after we ate it was time to clean up, take our showers and settle in for a night of movies. We all stayed up late watching movies in our pajamas and gossiping about our day. When it was time for bed I could not hold out any longer, and once I was in bed and the lights were out I slipped off my pajamas. This was the longest time I have ever spent at the beach and kept my clothes on. I was so uncomfortable and the least I could do was sleep naked after spending my day constantly adjusting my bathing suit. All of us girls were in the same bedroom and Kat was lying next to me. As soon as I slid my bottoms off, Kat said that she wondered how long I was going to last. We all giggled and soon we were all sleeping naked.
The next morning we all woke each other up early so we wouldn't waste our last day at the beach. But I noticed that everyone seemed a bit slow to dress. We all decided to eat breakfast in just our oversized tee shirts without anything underneath. Then after breakfast we put on our bikinis and headed out for another day walking the beach and visiting with our schoolmates. Then that evening Mom drove back up to pick us up and drive us home. We said our goodbyes and loaded up the car. As we drove away from the cabin and turned onto the high way to head home, I told Mom what a great time we had but how much more relaxing it is when she takes us to our secluded beach and we tan nude. Maddie and Allie agreed with me.
At that moment I had a great idea. I asked Mom if it wasn't too much trouble, could she drive down to our usual spot to see if anyone was there. Maddie and Allie both said "please!" at the same time. Mom smiled and said that was a great idea. We all looked at each other and started taking off clothes while driving down the highway. We just kept our t shirts on, but soon everything else was on the floorboard of the car.
I was worried that since it was Saturday, our secluded beach might not be so secluded. We normally go during the week when there are not so many beach goers. The trip to our secluded spot took a while and the detour was actually a good ways out of our way. But Mom is always good at letting us do things like that and soon we found ourselves turning off the old beach road into our favorite spot. It was late afternoon by then. The sun was about to set and there were a few people still on the beach. But we drove down to the fence that marked the park boundary, and parked the car between the other people on the beach and the fence. We got out and walked down to the water. We looked down the beach and saw the nearest group of people were a ways down. I asked Mom what she thought, "do you think they could tell if we were naked"? Mom said that as long as we stayed on the other side of the car we would be good. Mom suggested that we just hop over the fence and walk down the beach a ways until we were out of sight. So we started walking and after walking a safe distance we all pulled our tee shirts over our head and enjoyed our nude walk down the beach. The preserve had no one on the beach as far as we could see. After a while the sun started to set and the breeze felt good blowing over my skin. After a much needed long nude walk we turned around and headed back to the car. As we got close we saw that the nearest group of beach goers had left, so there was no need to put our shirts back on. We simply walked naked to the car, got in and proceeded to drive home nude. It was a great ending to a fun weekend.