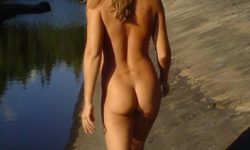 Summer break is here! Before school let out for the summer, all I could think about was how I was going to spend as much time as I could naked by the pool. And maybe one or two trips to the beach for some naked beach time. The plan was to be a bronze goddess by the end of Memorial Day weekend.
But Mother Nature has other plans! The weather has been horribly rainy all spring. With lots of flooding here in Southeast Texas. The creek behind the house has been flooded and too dangerous to swim in all spring. All this means that my tanning naked by the pool plans have not gone as well as I expected. Yes there have been a few days that I have been able to strip down and enjoy some sun. But not as often as I had hoped.
We haven't been to the beach yet because of the weather but hopefully things will get back into our typical hot sunny summer and life will be good. All of my friends and I did very well on our grades this year, and as a result their parents have eased up on their prudish rules about nudity in the home.
This winter Maddie made a deal with her mother that if she got her grades up she would have more freedom to be nude around her house. So all of us girls ganged up (including Mom) and we helped her study and to her Mom lived up to her end of the deal. So now Maddie can be nude around her home whenever and wherever she chooses as long as she is dressed when guest show up to visit. This helped out Allie also because the Moms talked about the trading grades for nudity deal, and we were able to get Allie's Mom to agree to the same thing!
The odd thing about it is Maddie and Allie are both A and B students. It really didn't take that much effort to get them to straight A's…and I know Maddie's mother knew that before making the deal! Maybe the grades for nudity deal was her Mom's way of helping get her Dad to agree and go along with it? Who knows, as long as it works out!
Kat has never really had a problem with her parents. They are not nudist like my family, but Kat has never had an issue with her parents about nudity. They have never made a big deal about. We have been friends since we were both very little and her parents have always know we were very relaxed about nudity.
With all of the parents at least tolerating a little more skin, everyone should be a bit more relaxed and not have to be sneaking around to have fun. So everyone is excited about our summer, and we can't wait to all look like bronze goddesses…if the weather will cooperate! Looking forward to my Naked Summer!