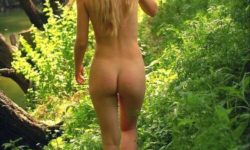 Today was a beautiful spring day, the sky was sunny and blue. It warmed up to 80 degrees and it was perfect tanning weather. All my friends stayed the night last night as well as my sister's best friend. So we had house full of nude girls running around all weekend. We are all on spring break this coming week and we just want to spend as much time together as we can. If we are lucky, most of that time I intend on being as nude as I can.
Today we all decided to skip church to avoid getting dressed. Mom cooked up a big mess of pancakes and after we ate everyone grabbed a towel and found a spot beside the pool. This coming week is all about relaxing and avoiding tan lines. It didn't take long for the conversation to turn to our many nude hikes and skinny dipping adventures in the creek last summer.
Last week we had a lot of heavy rains that has caused all the major rivers and creeks to flood. So curiosity got the best of us and we all decide to take a nude hike thru the woods to check out the flooded creek. We started to walk across our back pasture and it didn't take long to realize that the soggy and muddy ground was still a bit chilly on our bare feet. All six of us naked girls stood there and had a quick debate about wearing shoes on our hike, but no one wanted to muddy their shoes. So we all agreed to hike bare foot and just deal with the cool mud between our toes.
So goosebumps and all, we continued across our back pasture and down the wooded trail into the piney woods behind our home. The spring weather has the dogwoods and azaleas blooming and it was a beautiful hike. Trees are starting to leaf out and everything wants to turn green after our nasty wet winter. We didn't get halfway down to the creek because of the high water. The flooded forest floor looked so different, like we were in a strange place for the first time. The high water has moved the animals around. There were fish swimming around the base of trees, and more snakes than we were comfortable with. So after going as far as we could, we headed back up to the house to wash off our feet.
The sun felt good on our skin as we walked out of the shady forest back into our sunny pasture. I love walking naked in the sun, especially this time of year. We hosed off our feet and settled back down on our lounge chairs by the pool. It felt good to soak up the sun…I missed it so many times this winter. We spent the rest of the day planning our summer, and hoping that most of those summer days we could spend nude.