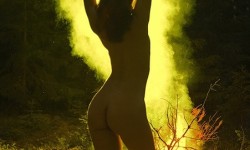 This weekend my friends came over for a sleepover. The weather was wonderful with sunny skies and it was warm enough to lay out by the pool. I like it when I can work on my tan without sweating from the heat. We all got some good sun to help keep our tan from the summer going. We all sat around talking about things the girls can do at their homes to try to get their parents to let them go nude around their house.
We all agree that simply stripping down and walking into the living room is not the way to go. No, we all agree that easing the family into it is the way to go. Maddie, Allie, have been leaving the bathroom door open while they shower. Then taking their time in the bathroom before they wrap a towel around them and walk to their bedrooms. Then as soon as they enter their bedrooms, they drop the towel and leave their bedroom door open. Sooner or later someone in the family will walk by, and the goal is to get them use to seeing them naked.
So we sat around and talked about other things they can do, and we came up with some good things to try during the winter. The goal is for my friends to be able to walk around their own home nude if they wish. Maybe even do their own nude sunbathing in their own back yard by next summer Their parents are very conservative, and they all know they might have to get grounded or worse before they can have their way.
The girls all enjoyed sleeping in the tent last time, so they asked if we could do it again this weekend. So Saturday afternoon we set up the tent out back behind the pond and had a nice campfire that night. It wasn't as chilly at night as it was our first time, so it made sleeping a bit more enjoyable. We all had a good night by the camp fire, roasting weenies and marsh mellows.
My sister brought out an old boom box from my Dads garage and we played music and danced around the camp fire. If anyone was in the woods watching us they would have seen what looked like a tribe of naked teenagers dancing naked by the fire. It was so much fun!
Now it is Sunday morning and we all decided to sleep in and skip church, so we could have another lazy day sunning by the pool. We don't know how many more fall weekends we will be able to do this before it gets too cold…so we are making the most of it!