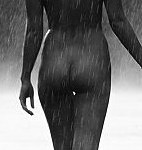 What was left of Hurricane Patricia has been dumping rain on my house all this weekend. However, life cannot stop…my dog needs to pee! My beautiful dog is a princess, who will not go outside in the rain unless I walk with her. It's like I am her moral support. Or maybe I am just a good motivator…who knows.
But the steady drizzle interrupted by an occasional downpour has not stopped since Friday, and it is now Sunday afternoon. So all weekend I have been the good Mommy to my puppy and I have braved the rain to make sure we have no accidents in the house.
I really enjoy walking in the rain and I make it more enjoyable by doing it nude. It's like taking a shower in my yard. More people should try it. Our bodies are made to be drip dry. We are not made of sugar so we won't melt. Just strip off your clothes and take a leisurely stroll around your yard in the pouring rain…maybe even down the middle of the street if you're brave enough. It's fun! And life is too short not to at least do it once in your life.
Although I have a very narrow temperature comfort range, I have walked naked in my yard several times this weekend…but the rain drops are a bit chilly. Normally during a summer rain shower, I can stay out naked in the rain all day. But the fall rain from Patricia is a little bit too chilly for my comfort. The temperature is in the mid 60's. But it won't be long until it's just too darn cold for me to walk around the yard naked, so I am toughing it out…although after a few minutes I am walking around with goosebumps and stiff nipples.
So when I grab the dog to walk her, Mom is sweet enough to have a hot cup of coco ready for me when I walk back in the house. Since our skin is drip dry, it's easy to dry off real quick with a towel and I'm done…no muddy shoes, no wet rain coat, no dripping umbrella, and no wet clothes to deal with. After I dry off, I snuggle up in my bed with my hot coco…life is good.