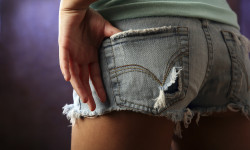 The other day my Dad came out to the pool before dinner to chat with my sister and I. We talked about our day for a while and he said that if I wanted to he would bring my sister and me to our church parking lot to practice my driving. I will be getting my learners permit next year and Dad always lets us drive around the church parking lot for practice.
There are very few things that will get me to put clothes on after a relaxing afternoon skinny dip…but driving Moms car will do it! So my sister and I dried off and went into the house to get dressed. We have to get out of the car to swap drivers so being that it's the church parking lot and all, we really should have clothes on. Besides, it's on a busy street and we don't want to flash anyone passing by!
We both put on shorts and shirts and jumped in the car for our trip across town. We skipped the bras and panties because we really hate them, and comfort is the key to good driving! I had on my favorite pair of cut offs and a thin white muscle shirt/wife beater. I didn't realize it or really much care, but my sister pointed out on the way to the car that she could see right thru my top. She sarcastically complemented me on the fact that she could see my bronze nipples as clear as day.
We don't purposely dress like that when we go out around town, and I assured her I did not do it on purpose. However if we are traveling out of town on vacations we do get to wear cute clothes that are not so conservative. I have some really short shorts that I only wear around the house or when we travel…the kind that you don't want your English teacher to see your butt cheeks in while shopping at the mall. But if the mall is a couple of hours out of town, I will risk it.
So we pulled into the parking lot and Dad and I swapped places. He let me drive around and practice my parking skills…that need a little more work. Then my sister and I swapped places and it was her turn. I got one more turn and then Dad said we better head back for dinner. We traded places and as he was pulling out of the parking lot I thought I would get rid of these pesky clothes for the ride home. I got my shorts unsnapped and unzipped, and about half way down my hips when Dad said I should leave them on because we were stopping at the store. I pulled them back on and looked down at my thin top to find that the cold air conditioner was making my headlights come on… (My nipples where hard and poking).
We pulled into the grocery store parking lot and I told Dad I wasn't dressed for a shopping trip. He smiled and said I looked beautiful, and that we were not shopping. He told me to get out of the car because I was going to drive the rest of the way home! So I ran around and got behind the wheel.
This was my first time to drive on a real road…although not a very legal thing to do. I got in and turned on the side street that took us a couple of miles out of town towards our neighborhood. Then down our winding road to our house. It was so fun and I think I did a good job. After all we stayed out of the ditches. I walked into the house from the garage and stripped off my favorite shorts and shirt at the laundry room door. I told my Dad that these were my lucky driving clothes and I would wear them every time I drive from now on!