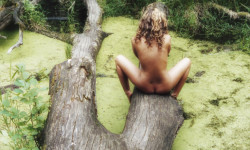 The girls and I have been hiking down to the creek in the afternoons. The hike thru the woods is hot and it is a nice relief to reach the creek and cool off. The other day we ventured from our usual spot downstream and found a place that have a couple of huge uprooted trees that had been left on the banks by the last flood. It made a little private beach area just off the creek bank, which kept us hidden from anyone boating down the creek. On the weekdays there are not many canoers, but this nice spot will come in handy on weekends when the tourist canoe past us…they won't be able to see us at all.
At first we laid on top of the logs to get some sun, but soon found that if we lay on the sand next to them it is very private. It is fun to watch Maddie and Allie enjoy their time with us. They are always making excuses to walk down a wooded trail and explore. They seem like excited little kids, and its fun to watch them.
We have been doing a lot of talking and I notice the experience is different for Maddie and Allie, as it is for Kat. Kat started going nude with me when we were both young. So by now I guess the new has worn off, and it is just our "normal". Kat has no problem with being naked in the presence of my parents. But Maddie and Allie are having a hard time adjusting and although they are comfortable to be nude around my mother, they still cover up when around my Dad.
Eager to try new things, the girls asked my mother if they can join us at our favorite beach soon. We all can't wait and Mom says she doesn't see why we cannot go this week.