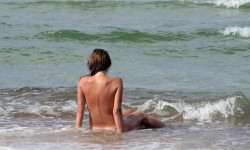 It seems the summer is flying by! I have been so busy having fun and enjoying my summer that I find it hard to take the time to post to my Blog…sorry for the delay.
One day last week my mother took my sister and I for a day trip to our local beach. Mom is a school teacher and is off of work all summer with us. Which is great because we get to go to the beach during the week when it is not so crowded. We have a usual place that we go and if we are lucky there is not a lot people on the beach, and if there are a few they are usually not locals.
My mother would probably lose her job if word got out that she hangs out at the public beach to do a little nude sunbathing with her kids. It doesn't seem fair, but we live in a very conservative community and unfortunately not everyone is as open minded as our family is. But fortunately for us, since it was a weekday and a threat of an afternoon thunderstorm, our little piece of beach paradise was almost deserted. Last summer we had a problem with nasty seaweed washing ashore. But so far this summer the beach is clear.
We parked in our usual spot, so we could lay out between the car and the park boundary fence. So anyone who would drive that far down the beach would have to turn around before they reached our spot. Then all we had to do is look for the occasional beach comber. I scanned the beach in both directions, and our nearest neighbor was so far away that they looked like ants. So we stripped down and arranged our lounge chairs for optimum sun exposure and settled in on a wonderful day in the sunshine. The thunderheads were forming off in the distance but the rain stayed mostly inland away from the beach.
My sister and took turns pushing each other around the surf in our big inner tube that we always bring. The warm water swirling around me in the surf felt wonderful. I always prefer skinny dipping at the beach than in our pool at home. The waves and the swirling water have such a relaxing effect on me. I think everyone should try a good skinny dip in the ocean! Take off those nasty, clinging bathing suits and give it a try!
We laid out and worked on our tan, and spent the rest of the day relaxing without anyone walking past. Of course Mom is always on the lookout for cars and people walking up on us, but the beach was nice and quiet. I cannot explain how relaxing it is to spend the day at the beach without having to constantly adjust a nasty wet bathing suit. The sea breeze blowing around you…it is just a wonderfully relaxing experience. Even with the threat of rain we were still able to get a good dose of sun…I hope I don't peel!
When it was time to go, we took the air out of our inner tube and packed up the lounge chairs. Mom threw on a tee shirt for the drive home, and my sister and I just put our towels down on the seat and drove home nude. Mom has tinted windows so there is no need to cover up, and my sister and I are always trying to see just how long we can go without covering up anyway.
On the way home Mom pulled into a drive thru to get dinner. I was on the passenger side, so I just pulled a towel up around me to cover up. My sister was sitting behind Mom and was out of view of the girl at the window…so she didn't even cover up. She looked at me and stuck out her tongue…and I wondered why I always have to get the shotgun seat!