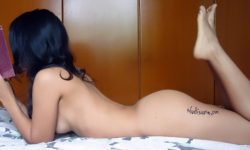 This morning I woke up nude and naked, just like I do every morning. I am a teenage nudist, so that shouldn't seem so special. But this morning was different. I laid there in bed for a few minutes just enjoying the feel of the sheets covering my bare body. It's so much more comfortable to sleep nude. No clothes to bind and pull at you while you sleep. I had a good stretch and noticed the sunshine beaming thru my window. My dog sleeps at my feet and she immediately jumped off the bed when she saw me pull the sheets away so I could get out of bed.
I stumbled out of my bedroom and wandered into the bathroom. I put my contacts in so I could see what I was doing, and then walked my naked self into the living room with my dog patiently waiting for me by the back door. Slowly I opened the door and stepped out onto our back porch, only to be greeted by the bright sunshine and the warm spring air.
I stood at the edge of the porch and reached up and had another good stretch while feeling the warm morning sun on my bare skin. It's been a crazy winter. Abnormally cold and wet for our little piece of heaven here in Texas. But this day was the most beautiful day I have seen in a while, and I've been waiting all winter for a day like today.
I stepped off the end of the porch and took a long and leisure walk around the yard with my dog leading the way. I am so lucky to live out in the country where I can stroll around my yard naked without anyone seeing me. Letting the sunshine bathed my nude body and I felt the warm breeze blowing across my skin. I haven't been this happy to be walking naked outdoors in a long while. I knew it was going to be a warm and sunny day, and I could not wait to get my day started.
We walked back into the house and I made my way to the kitchen and poured me a cup of coffee. My timing was perfect. Mom had breakfast ready and I made me a plate, grabbed my coffee and made my way back outside to enjoy my breakfast out on our patio. And it wasn't long before I was joined by my sister and mother.
Everyone had smiles on our faces and we all agreed that today was going to be spent outside enjoying the beautiful day. The water in the pool was still too chilly for me to swim, but that didn't stop my sister and me from laying out beside it and soaking up the sunshine. My sister and I have been sunbathing nude by this pool all of our lives. But I don't remember a day that we could have been happier. The temperature was perfect, and I was in my own nudist heaven.
We ate lunch out by the pool and lounged around until the afternoon breeze turned a bit cool and the evening shadows dropped the temperature down enough to bring me back inside the house. I have missed the warm weather so much, and I look forward to more warm spring days to come. It's been a rough winter for this teenage nudist girl. But I think our high heating bills are behind us!
As I type this I am ending the day as it started. With my nude body relaxing between the sheets of my bed. But this time I can feel the old familiar feeling of my sun kissed skin against the sheets. I may have a little sting on my skin from the sun, but oh how I have missed that feeling. I have been smiling all day, and I can't wait to fall asleep so I can do it all over again tomorrow!
Love Suzie